Nattapon Chumchujan (affectionately known as Nat) is a chef, a qualified engineer and a Farmer and owner of FarmRak. Rak means love in Thai and FarmRak is the farm of love.
Nat is possibly Australia's highest profile Aquaponics commercial farmer and luminary of the sustainable farm-to-table movement.
As a chef he was unhappy with the quality of the produce he was receiving in his popular Brisbane FarmRak signature restaurant. In a bid to improve the taste and texture of the meals he was creating, he discovered aquaponics. He designed a closed loop aquaponics farming system which now provides Fresh and Spray Free produce to his restaurants in Ascot & in Buderim .
The Farm is a small water efficient aquaponic operation located on the Sunshine Coast, a short 1 hour drive from our his flagship store - FarmRak signature restaurant and only 15 minutes drive from FarmRak in Buderim. It supplies the restaurants with vegetables, herbs and other produce.
The farm is a chefs playground, and Nat can create new menus based on his produce, using ingredients that are in season and now you can taste the difference in the quality. All because he has shortened the supply chain so you enjoy vine ripened produce direct from the farm.
It's all about Paddock to plate, we grow the vegetable varieties that are best suited to our dishes, giving us the best taste and texture. Having access to the freshest ingredients makes all the difference.
Closed loop and Sustainable Commercial Farming
We've done a lot of work on the farm to get it commercially ready. It's bigger and better, with new techniques and new irrigation systems. Our fish are thriving and chickens eat the organic waste.
Our water consumption is less that what a family would use at home and we have no waste. Its been a labour of love, but its real, it's fun and the truth is in the taste. I hope you love it as much as we do." Nat Said.
Our concept store menu has been a great success. In our test kitchen, we are always creating new and exciting dishes with a twist, come sample something new, made by our chefs with ingredients from our farm with love .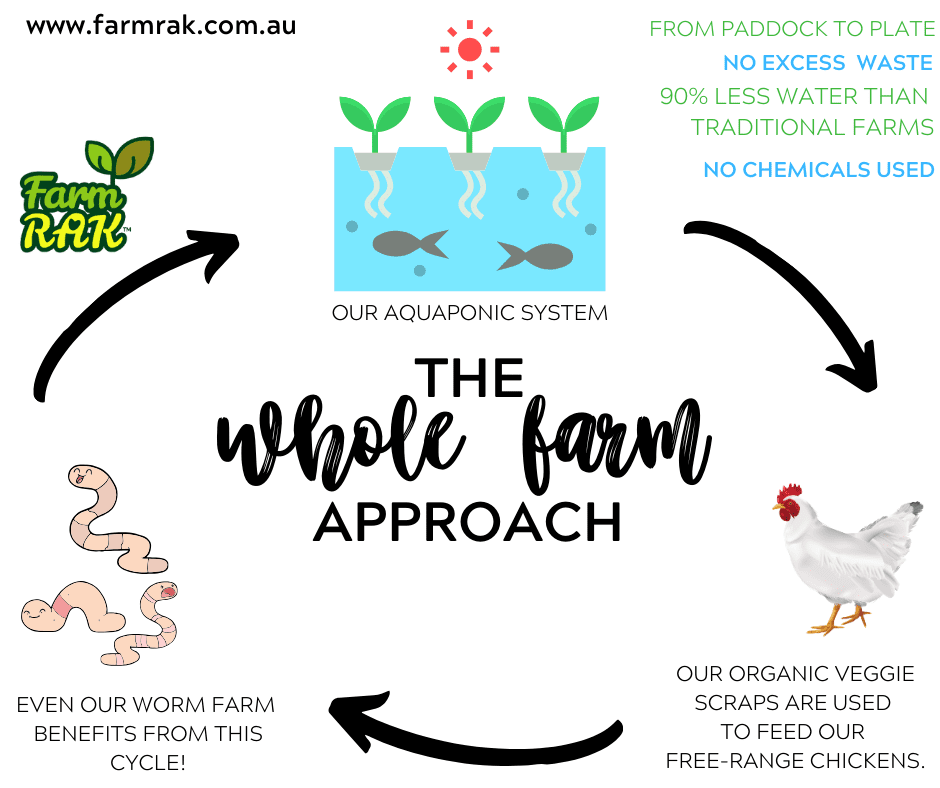 From our farm to your plate - this is our aim. We love to share with you our passion for healthy eating, the benefits of eating locally organically farmed produce.
We provide the Sunshine Coast with our farm fresh produce & salads. Available to enjoy at our Concept store in Buderim on the Sunshine Coast & in our Flagship Signature Restaurant in Ascot- Brisbane.
Aquaponic Farming -Aquaculture + Hydroponic = Aquaponic
One of the coolest things about Aquaponics is that it mimics a natural ecosystem. Aquaponics represents the relationship between water, aquatic life, bacteria, nutrient dynamics, and plants which grow together in waterways all over the world.
Taking cues from nature,  aquaponics harnesses the power of bio-integrating these individual components: Exchanging the waste by-product from the fish as a food for the bacteria, to be converted into a perfect fertiliser for the plants, to return the water in a clean and safe form to the fish. Just like mother nature does in every aquatic ecosystem.
The Farm of Love Rak means LOVE in Thai
We are passionate about sustainable and environmentally friendly farming. We're passionate about nourishing the Human Body through nutrient-dense, organic and healthy foods. And we're passionate about educating others on this natural way of living, and loving.
In Life - Happiness is a choice EVERYDAY
Happiness is enjoying the little things in life
Know your purpose, for when you connect with your passion then everything is worthwhile
Don't overthink your passion, the world needs you…just stand for something and make a difference.
Making a difference is not a big things, its just lots of small things that together have a big effect
Don't forget how much your purpose and the choices you make everyday has the power to inspire greatness in others.
You are important, and a role model and what you do counts.
Support your community, buy local. Help them improve and reward the ones that are doing something well. They work hard support the people and businesses who support themselves.

Don't take short cuts, people don't want the cheapest, they want value. There is a difference.

Be prepared to make mistakes and learn from them.

Work with you customers to develop new ideas and concepts.

DO your research… and its not just asking questions, learn about what you can really learn.

You don't know what you don't know...